Best Restaurants in Chiang Mai
Chiang Mai, aside from the fact that its one of the world's most enjoyable cities to spend time in, is an amazing place to eat Thai food. Bangkok probably has more diversity in terms of the available food, but it's so ridiculously hot and unpleasant to get around compared to Chiang Mai, which has a range of amazing restaurants located relatively close to each other (with some exceptions). Below you'll find out all about the best restaurants in Chiang Mai where you can eat some of the best Thai food on earth. I've eaten multiple times in every one of these restaurants, so they come with my seal of approval!
Midnight Sticky Rice
Despite its name sounding like an eating ritual that drunk college students engage in, the major reason for this restaurant's immense popularity isn't to do with sticky rice. The appeal of Midnight Sticky Rice is the quality of its nam prik num, which is a green chili dip unique to northern Thailand that has to be tasted to be believed. Find me a better way to eat sticky rice than with some nam prik num from Midnight Chicken and I might just love you.
In my humble opinion, the best accompaniments to nam prik num are sticky rice (hence the restaurant's name), fried pork (moo tod), and a simple boiled duck's egg, all of which you can order here. The nam prik num chili dip is made by blackening long green chilies on a grill and combining the chilies with  blackened shallots, garlic, lime juice, and fish sauce until it forms a thick, fibrous dip. The result is a spicy, salty, and sweet dip that tastes amazing, and the cooks at Midnight Sticky Rice have it down to a fine art. Thai people on vacation from Bangkok go out of their way to visit this restaurant just to try the chili dip, that's how good it is!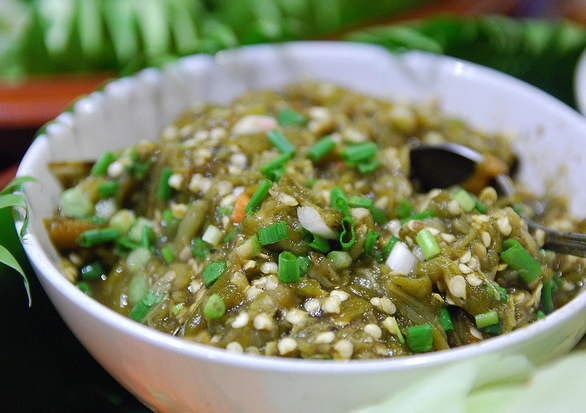 The restaurant opens from 10 p.m. until 5 a.m. every day except Sunday. Given the slightly strange opening hours, you might assume that you can rock up and easily get a seat, but nope. The popularity of Midnight Sticky Rice is such that it's nearly always jam-packed. Your best bet is to arrive shortly before it opens when it isn't as busy as it gets towards midnight. The seats are pretty basic, but this is Thailand! You're not here for comfort, you're here to eat the tastiest food on earth!
Here is a helpful Google Map link showing the exact location of Midnight Sticky Rice in Chiang Mai.
SP Chicken
Sometimes you hear so much about a restaurant and read about it on so many blogs that it ends up being a disappointment–SP Chicken is not one of those restaurants. The chicken here tastes absolutely incredible every single time and it's always cooked to tender perfection. The chefs at SP Chicken cook a rotisserie style Thai chicken stuffed with lots of garlic, which imparts a wonderful flavor on the bird. Service is friendly, efficient, and extremely quick. 
Even tastier than the chicken is the nam jim jeow served with it. This sour little dip is possibly one of the most delicious things I've ever eaten. I enjoyed it so much that I got the recipe from the chef who wrote it in Thai for me and my girlfriend translated it. The dip is made from tamarind, chili, finely chopped spring onions, and shallots. It is tongue-twistingly sour but that what makes it so good for me. Any trip to Chiang Mai is incomplete without eating a full chicken, sticky rice, and some nam jim jeow at SP Chicken. The below pic shows the sauce in all its sour glory: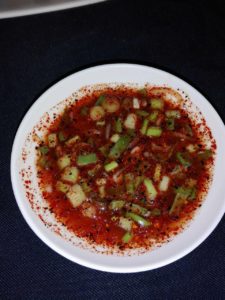 There is a range of other fantastic dishes on the menu, and I'd particularly recommend the sour pork soup, which is otherwise known as tom saap moo. The som tam (papaya salad) is also really good here, although not the best in CM. You can find SP Chicken near Wat Phra Singh, which is one of the most famous temples in the city. You'll note how it's always got Thai people inside, which  is indicative of how good the food is. 
There's no particular way of gauging the exact opening days of SP Chicken because the owners often take holidays unexpectedly. In general, when the owners are around, which is most of the time, the restaurant opens every day from 10 a.m. until 5 p.m.
Paak Dang 
While for the most part I try to emphasize cheap, street food style restaurants on this list and on this blog in general, sometimes you just have to take your hat off when a restaurant serves such amazing food as Paak Dang does.  
You pay a premium for eating at Paak Dang compared to other restaurants in Chiang Mai but it is still no less affordable than a standard Western restaurant that serves pretty mediocre fare. When you come to Paak Dang, you come to eat extremely well. In fact, the best Thai curry I ever ate was served to me here. It was a Hor Mok curry, which is a seafood curry served inside a coconut. I was so taken aback by its quality that I still struggle to come up with the words to describe it. It's nice when a dish is so utterly delicious that it goes beyond what language can describe. 
Sometimes a picture tells you everything you need to know. The curry was creamy and complex in flavor. It was highly spiced, but not to the point that it drowned out the taste of incredibly well cooked seafood. The mussels were huge, immaculately cleaned, and absolutely heavenly. The large shrimp inside were cooked to perfection; moist and tasty. This is the kind of dish you just can't find fault with. This is luxury Thai food, and it still only cost me 400 baht, which is next to nothing really.
As if the Hor Mok coconut seafood curry wasn't amazing enough, this was the next dish served to me at Paak Dang:
There is a great level of skill involved in cooking an entire fish on the bone with such precision that it melts in your mouth as you eat it. This is a dish named pla neung manao, which essentially means fish served with lime. The chefs first steam an entire fish on the bone before serving it in an amazing lime broth that combines sweet, sour, and heat to perfection. As Thai food goes, this is another of the more luxurious dishes. 
Pricier restaurants in Thailand often get a bad rep from backpackers, but sometimes it's worth spending that bit extra to eat truly memorable food. I still only ended up with a bill costing me around 850 baht at Paak Dang, which is superb value considering the quality of food on offer and the beautiful surroundings beside the Ping River in CM. 
Paak Dang is a little bit away from the normal tourist areas of the city, but any tuk tuk, songtheaw, or taxi driver should know exactly where it is. A couple from Singapore runs Paak Dang, but they cook like native Thais. 
Taste From Heaven
When considering the best restaurants in Chiang Mai, many websites add a vegan or vegetarian option just for the sake of satisfying the needs of readers who don't eat meat and who might otherwise comment negatively on the blog post. The great thing about Taste From Heaven is that it makes this list on merit and the quality of the Thai food is the only reason I've put it here. 
Run by a lovely woman named Nan, Taste From Heaven serves up some spectacular Thai dishes on a menu that doesn't make me miss meat in the slightest. The original Taste From Heaven has been such a success that Nan built a new restaurant on Loi Kroh Road, named Vegan Heaven. I haven't eaten at that place yet, but I trust the food has the same top-notch flavor as it does in Taste From Heaven. 
A particularly stunning dish here is the banana blossom salad, which is at once creamy, crunchy, and spicy. Banana blossom is a famous ingredient in Southeast Asian cuisine, and the Burmese version of banana blossom salad is perhaps the more well-known. The chefs at Taste From Heaven make a memorable Thai version that I definitely recommend trying.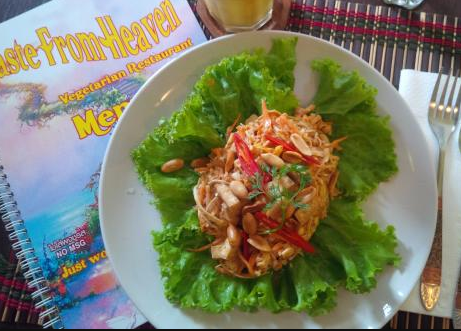 Taste from Heaven is one of the best restaurants in Chiang Mai to eat a humble yet mouth-wateringly good Thai dish; pineapple fried rice. Fried rice comes served in half a pineapple, with succulent and sweet notes of the perfectly ripe fruit mixed throughout the rice, bursting in your mouth with each spoonful. If anything, the dish serves as an example that pineapples can be used to great effect in savory cooking, something I previously thought extremely difficult, if not impossible. It shouldn't work, but it just…does.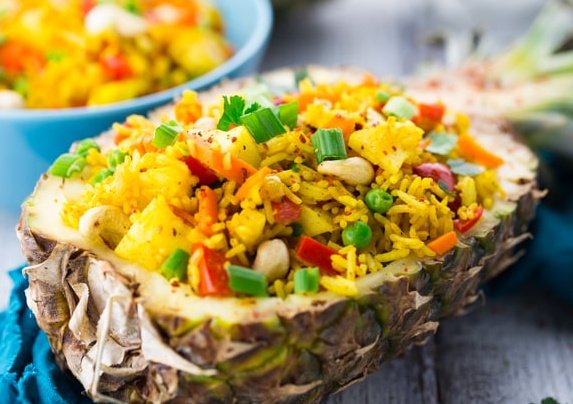 Another must-eat dish is the mushroom larb, if only for the novelty (although it eats brilliantly). Larb is a famous Thai salad, nearly always consisting of various type of minced meat served with toasted sticky rice, mint, lime juice, and chili. Taste From Heaven offers a riff on the original by tossing away that pesky meat and replacing it with finely chopped mushrooms. You get the sourness and spiciness of the original, without the imprint on your consciousness that you just consumed a minced cow/pig/(insert animal of choice). 
As someone who leans heavily towards the "likes to devour most edible meats in sight" end of the omnivore spectrum, I have to say Taste From Heaven accomplishes the rare achievement of making me forget meat exists, if only for a brief moment in time. When I eat at Taste From Heaven, I start to seriously 'get' the whole vegetarian thing. It scares me. 
I implore meat haters and meat lovers alike to get down to Taste From Heaven and bask in the indulgence of eating great Thai food for a reasonable price with really friendly staff serving your dishes. I mean, what more could you want? 
Lemongrass
I felt a bit of an internal struggle when it came to deciding if Lemongrass should be on this list. On the one hand, it's an absolutely fine restaurant with very good food. On the other hand, I felt like I was just including it because it's the only restaurant on my list that serves the kind of Thai dishes that us foreigners know about. At the end of the day, the quality of the food shone through too much and it deserves to be here. 
The menu at Lemongrass is actually more extensive than I give it credit for, and there are loads of dishes that are worth sampling beyond Pad Thai at this small little place in the heart of the night bazaar. You get a mean Tom Yam Goong that tastes as refreshingly sour and spicy as any good version of this famous Thai soup should. The presence of fat, juicy shrimps helps things considerably.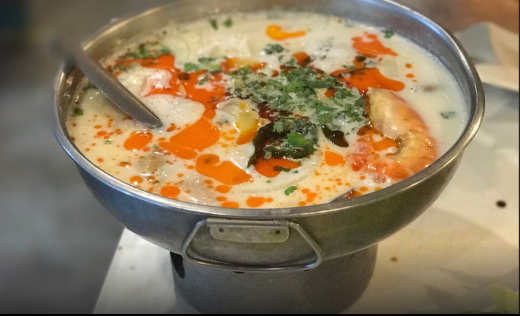 Another must-try is the version of stir-fried morning glory served at Lemongrass. Lashings of fish sauce and oyster sauce complement the delicately treated vegetables, and deep-fried shallots add another textural dimension. Another thing I like about this version of the dish is how they don't bother serving humungous chunks of chili that nobody ever eats anyway. 
You can find a range of standard Thai fare here too, including Green Curry, Massaman Curry, and Pad Thai. All dishes you've probably heard of before visiting Thailand. That's not to denigrate them; they are Thailand's most famous exported recipes with good reason: they taste superb. I just believe that there is so much more worth exploring about Thai cuisine that I tend to minimize my time spent eating the dishes everyone knows about. A bonus benefit of eating at Lemongrass is that the walls are covered with graffiti, meaning you won't be bored while waiting for your plates of food to arrive. And they do take time, as Lemongrass is perhaps the busiest restaurant in the night bazaar.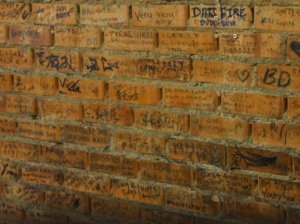 Overall, the food at Lemongrass is great and the selection is varied enough to keep curious diners happy. 
That just about rounds up my list of the best restaurants in Chiang Mai where you can eat some sensational Thai food. If you're enraged about the lack of restaurants selling Khao Soi or another other popular dish I've not mentioned, fret not! I'm going to write a separate post about the best street food stalls in the city, and Khao Soi is on the list! 
One small request I have is that you share this article on whatever social media sites you're active on. And if you have anything to say, feel free to leave a comment. Thank you!
Please like, share, and follow