Sorn Chai restaurant is a small unremarkable looking restaurant located right in the heart of the old city, just across from Tha Phae gate. It's the kind of place that expats living in Chiang Mai and frequent visitors to the city have probably walked past dozens of times without even noticing it. I'm writing this post to tell you to take notice—the food here is seriously good, and acts as a wonderful introduction to northern Thai food.
I visited Sorn Chai restaurant on two separate occasions recently, and the quality of the food is exceptional. Sorn Chai serves simply wonderful Northern Thai food that leaves you wanting more. It's the kind of place that knows what it's good at—so it limits the amount of dishes on offer. This is in stark contrast to so many Thai restaurants in Chiang Mai that stuff 25 to 30 dishes on the same menu, and don't cook any of them to a notably good standard.
It's telling that so many of the the best Thai restaurants in Chiang Mai specialize in no more than 5-10 dishes. Anyway, onto the grub, because that's what you're here to read about. When you rock up to the place, you'll notice a glass cabinet, behind which are large silver bowls filled with three different dips and salads.
Laab Khua (Offal Salad)
What I really fell in love with at Sorn Chai restaurant is their laab khua, which has is the northern Thai version of the popular Thai salad, laab. Except in this part of the country, laab tastes completely different; it's bold and intense. It's made with offal—which is the innards of a pig. That sounds off-putting, but trust me, it's delicious.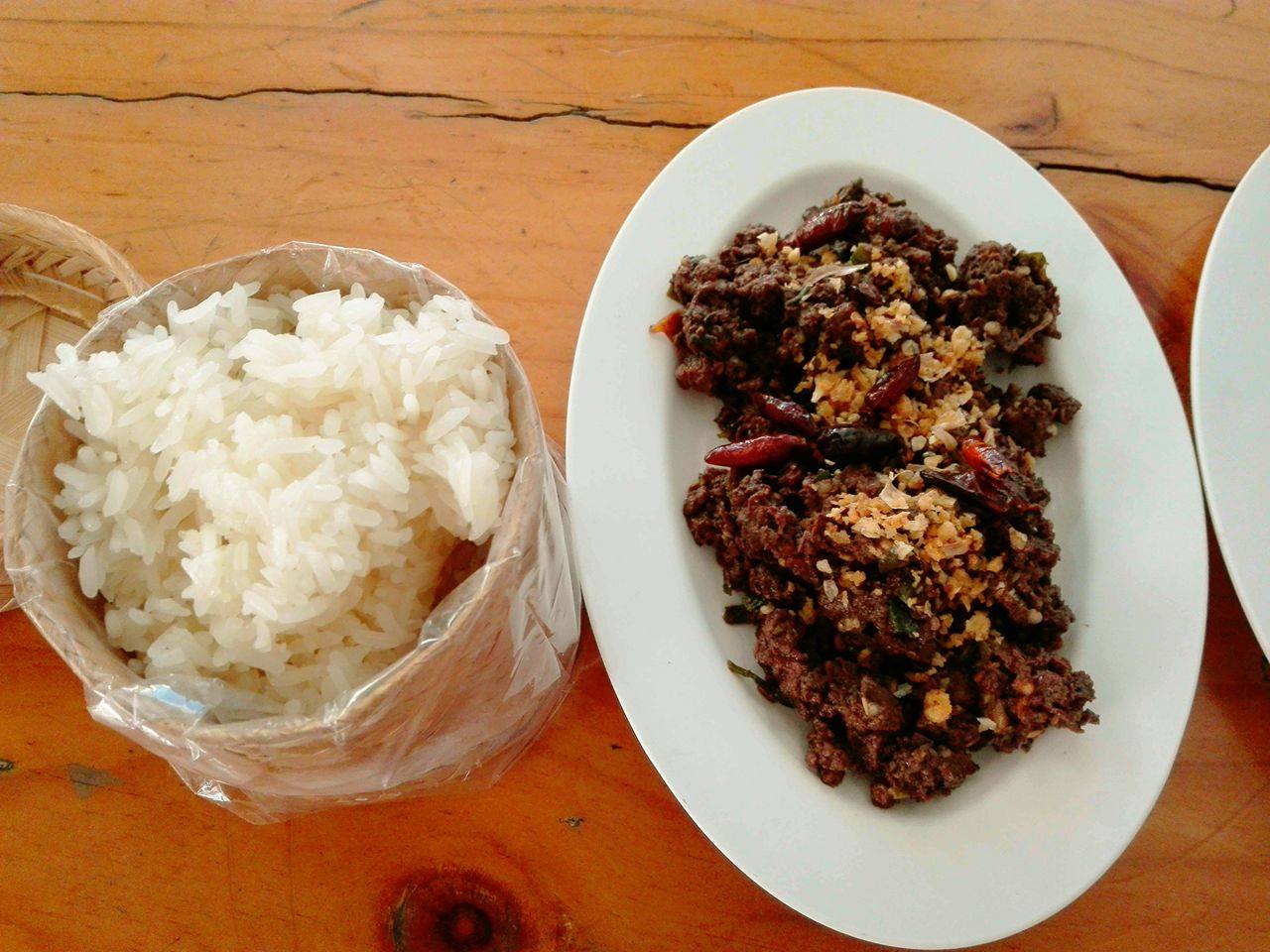 The laab khua at Sorn Chai has a peppery, smoky, and spicy, taste to it, and the addition of roasted chilis gives it a wonderful nuttiness. The offal itself adds a delicious flavor, reminiscent of black pudding, an ingredient familiar to U.K and Irish readers. In contrast to a traditional laab, the northern Thai food version doesn't use lime juice, so it tastes completely different. The consistency is perfect for dipping some sticky rice into it. In fact, that's how laab khua should be eaten. Check out the pic below. Looks yum, right?
Sai Oua
Sorn Chai also serves a delicious sai oua, which is Chiang Mai's speciality pork sausage. Sai oua is a spicy, slightly sour sausage with complex undertones of lemongrass, coriander, and turmeric. It's really good, and the two smiley ladies at Sorn Chai restaurant do a wonderful job of it.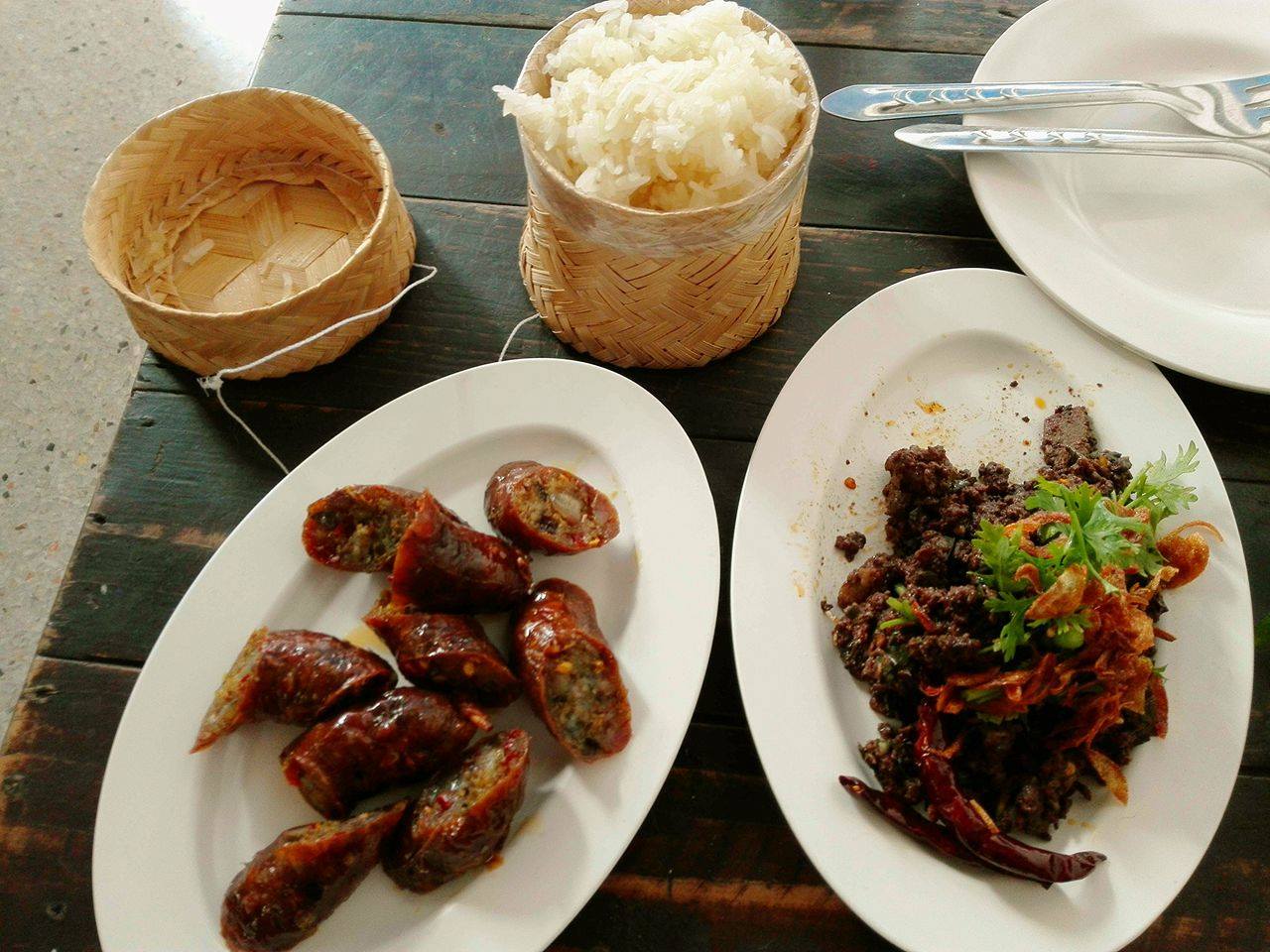 The final dish I recommend is nam prik ong. This chili dip, or nam prik, comes with minced pork and a heavy tomato flavor, with a chili kick thrown in for good measure. The taste is almost reminiscent of a bolognese sauce actually, but with an added element of funkiness from shrimp paste. Again, this dip is another prime candidate for some sticky rice action along with some dipping some healthy veg in the sauce. If the previous pics haven't whetted your appetite enough, check this out! Yum!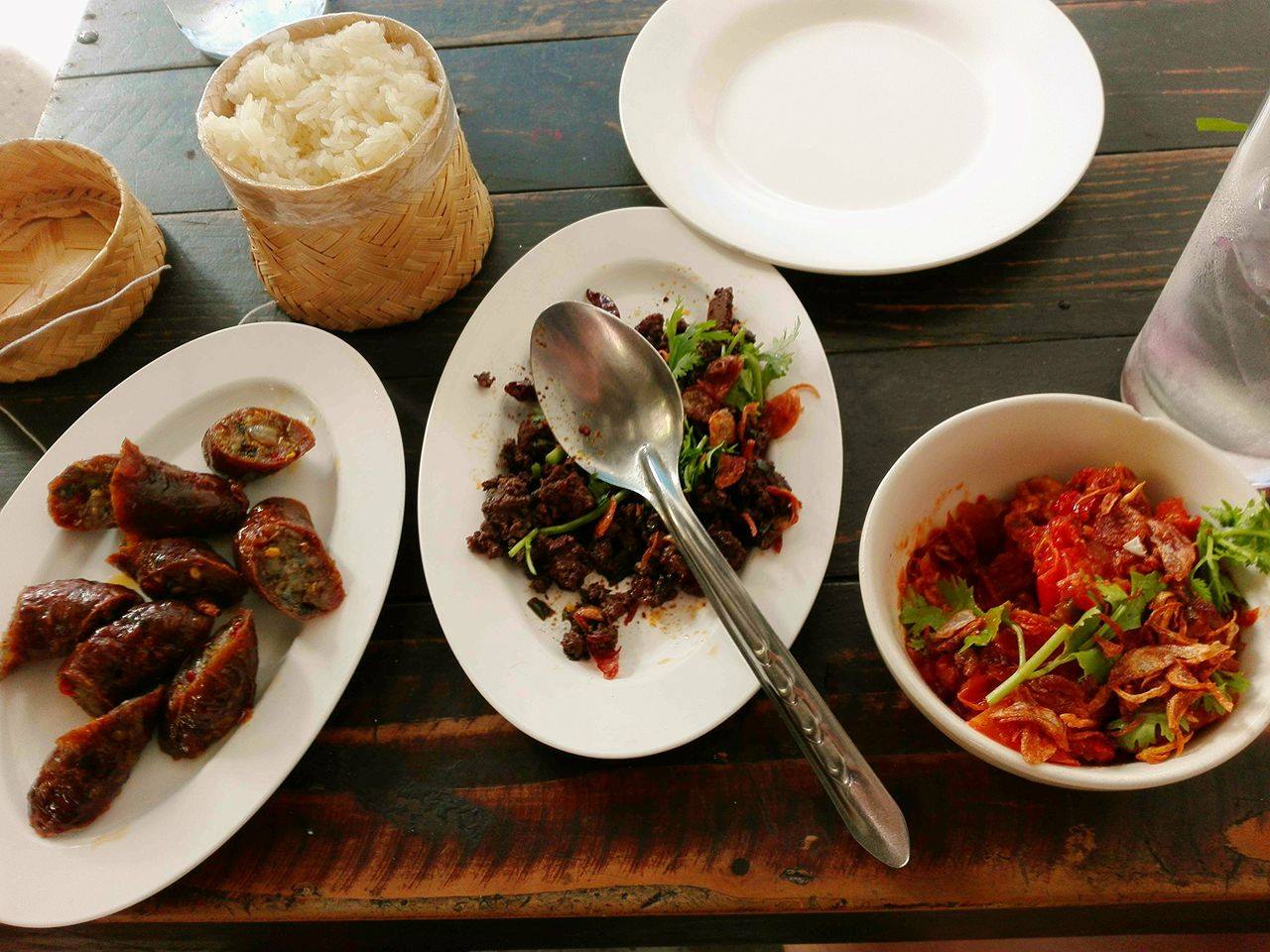 You'll probably need rudimentary Thai to order food here. Pointing at your desired dish and smiling is always an option, but a little Thai goes a long way. The word ao, prounounced, like the ow in how, means "I want". So you can say, ao laab kua, which means "I want laab kua".
For an introduction to northern Thai food in Chiang Mai cooked by two friendly sisters who know what they are doing, you should definitely check this place out. A Google Map link is below. And let me know your thoughts in the comments. Happy eating!
Google Map link to Sorn Chai restaurant Chiang Mai: https://goo.gl/maps/LPK5sj9v1qG2
Please like, share, and follow