SP Chicken Chiang Mai
"I need to get out of here before I gain a stone." 
Those were the words I uttered to my girlfriend the first time I sampled the amazing grilled chicken and dipping sauce at SP Chicken Chiang Mai. I've since returned about 20 times, and I've probably gained that stone and more, but oh my god, it has been worth it. 
SP Chicken is a restaurant in Chiang Mai that specializes in Isaan-style dishes. Gai yang, or grilled chicken, is perhaps one of the most popular street food dishes in all of Thailand. In five years of traveling around the country, I've yet to taste a better grilled chicken than the one served at this famous restaurant. 
The chefs at SP Chicken cook their birds rotisserie style. One full chicken costs 140 THB, which is an absolute steal.
The designated cook for the day pays a huge amount of attention to the bird as it spins around the rotiesserie, basting it with oil every few minutes to crisp up the skin, like you can see in the main image for this article. When it's finished cooking, the chicken comes to you like this: 
Every single time, the meat is perfectly tender.  But it's not just about the quality of the cooking: it's about the flavor they manage to impart on the meat by stuffing it with gargantuan amounts of garlic and lemongrass. 
Nam Jim Jaew (แจ่ว) aka The Tastiest Dipping Sauce Ever
As good as the chicken tastes at SP Chicken Chiang Mai, the quality of the meat alone is not what makes this place worth coming to. No, what makes this a must-visit restaurant in Chiang Mai is the Nam Jim Jeaw dipping sauce you get with your chicken.
I have genuinely never tasted anything so addictively delicious in my life. It's so good in fact, that I'd have no problem paying five times the price of the chicken, just to eat the accompanying dipping sauce. I couldn't stop dipping the chicken and the sticky rice into it.
I pretty much had to be dragged out of the place by my girlfriend, having ordered additional portions of sticky rice just to dip in the sauce. 
The Nam Jim Jeaw they make at SP Chicken is incredibly sour and spicy, with such lip-smackingly intense addictive flavor that it's a wonder they don't bottle it and sell it as a drug. The sauce is made with tamarind, toasted sticky rice, lime juice, spring onions, shallots, fish sauce, and chili flakes. Here's a close-up shot: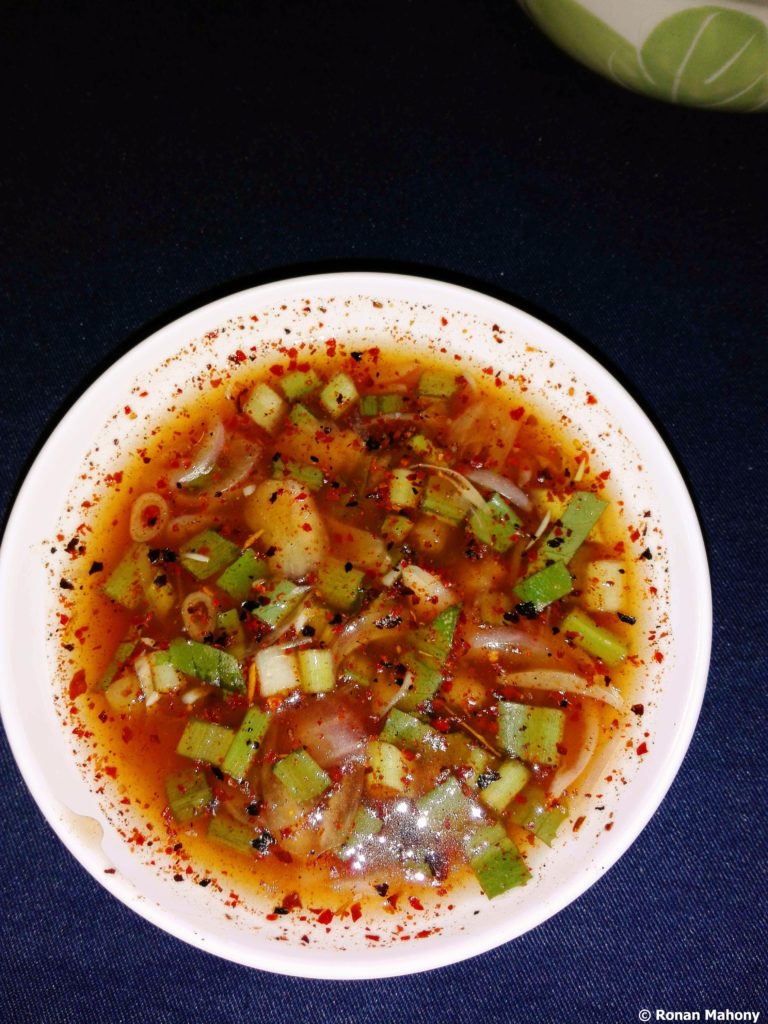 The cooks here are no one-trick ponys, though. Hence why the famous American chef Andy Ricker partly based his menu on what SP Chicken offers.  We also ordered the tom saab moo, which is an intensely spicy and sour Thai soup that ranks as my favourite soup of all time. So you could say I have high standards for my tom saab moo. 
Luckily, the soup at SP Chicken is as it should be, with generous amounts of lime juice and lime leaf making for a predominantly sour flavour, complemented by the fragrant aromas of lemongrass and coriander, heat from chopped fresh chilis, with well-cooked chunks of pork to round things off. You can see the tom saab moo on the left of the below image: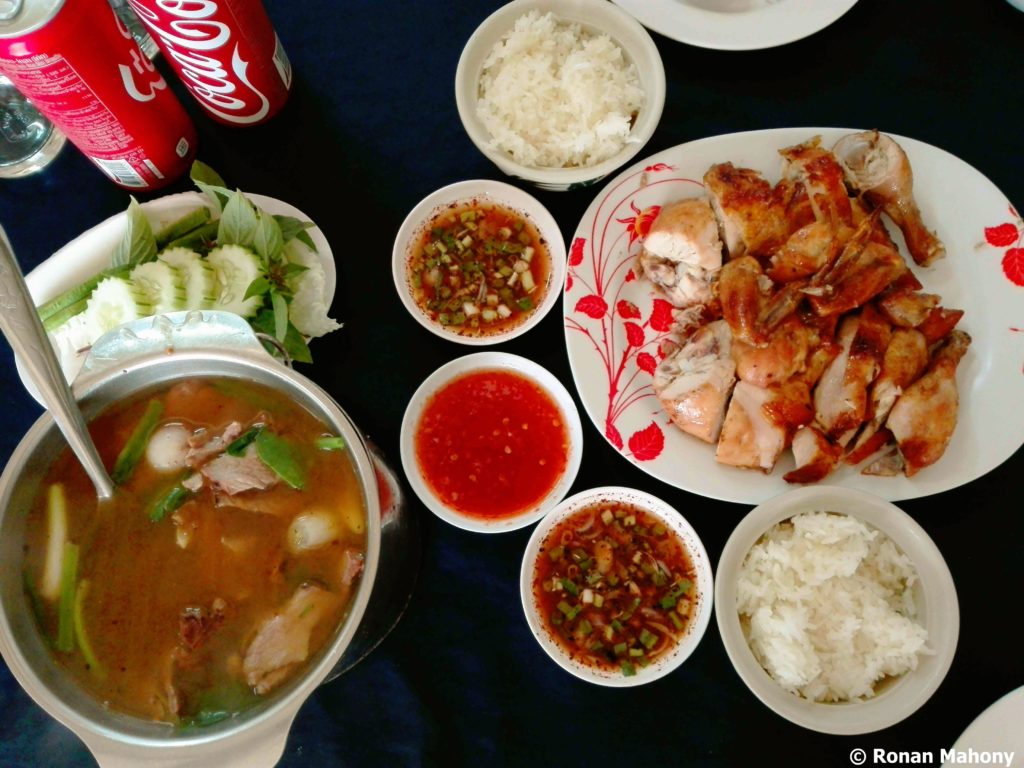 Whether you are already in Chiang Mai or you plan to go there one day, SP Chicken should be one of the first restaurants you visit. The Chicken is tender and flavorsome, the dipping sauce is out of this world, and the staff are always smiling and friendly. 
You can find SP Chicken near Wat Phra Singh, which is one of the most important temples in Chiang Mai. The restaurant opens from 11 a.m. to 9 p.m. every day. Expect to pay about 200 THB per head for a range of great dishes. 
You can find the exact location of SP Chicken Chiang Mai using this Google Map link. 
This restaurant also features on my list of best restaurants in Chiang Mai. Check that out here!
Enjoying the site? Want to get free exclusive Thai food recipes that I only send to my email list? Please consider subscribing. All it takes is your name and email address and you can opt out at any time. I've placed the simple signup form below. Thank you! 
Please like, share, and follow