One of the most exciting aspects of getting to know any cuisine is sampling ingredients and crazy dishes that I otherwise never would've tried. I am naturally quite a curious person, and I have a strong stomach so I'll give pretty much anything a shot (within certain limits)
Thai food happens to feature some downright bizarre ingredients and dishes. From travelling around Thailand for the past five years, it became apparent to me that there's not many things the Thais won't eat. If they see a use for an ingredient, they'll put it into a recipe. Often, with incredible results.
The following post is dedicated to six weird Thai food dishes that actually taste great. I didn't want to include anything that I personally don't like eating because some Thai dishes are simply weird and not all that wonderful. Like raw pig's blood, for example. 
It's my hope that when traveling around Thailand, you will consider trying some of these dishes. At the very least, I hope you like reading about them!
Goong Chae Nam Pla (Thai Marinated Raw Prawns)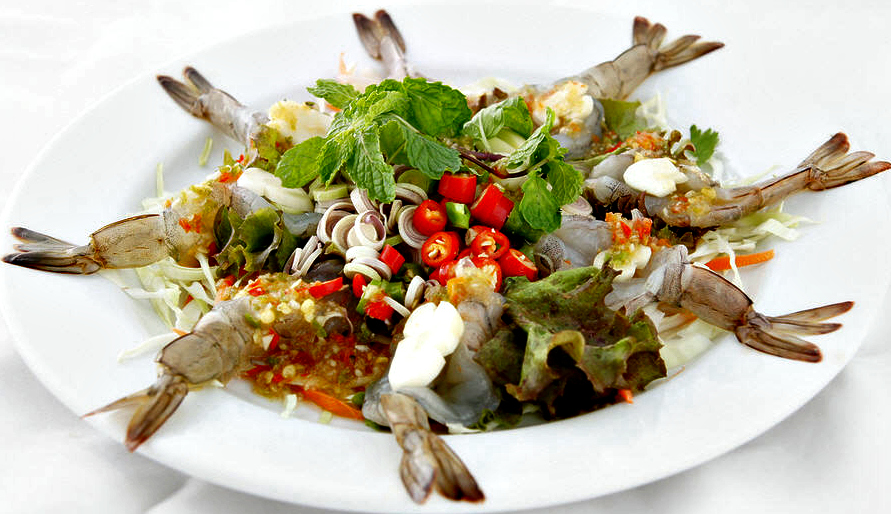 The idea of raw prawns is, well, an odd one to say the least. I've eaten sushi at many Japanese restaurants and never have I once encountered a raw prawn, although I'm sure they are available. Yet the Thais eat them in this dish like it's the most natural thing in the world. 
Goong Chae Nam Pla is a dish of extremely fresh uncooked prawns bathed in a spicy, sour, and salty sauce with just a hint of sweetness from palm sugar. The prawns are typically arranged beautifully on a bed of sliced cabbage and cucumbers.
The Thais often wash their marinated raw prawns down with some cold beers, such as Leo or Chang.  The Nam Pla in the title refers to the dish's generous use of fish sauce. 
Goong Chae Nam Pla is typically chilled for about 15 minutes prior to serving, which preserves the freshness and gives the shrimp more flavor. The best way I can describe the taste of soft raw shrimp is buttery and slightly sweet; it genuinely tastes surprisingly good.
The addition of copious amounts of garlic, chili, lime juice, and fish sauce ensures a zingy fresh flavor that complements the soft buttery shrimp perfectly. Crunchy vegetables add texture and bite to the dish. 
Goong Chae Nam Pla definitely falls under the category of weird Thai food dishes that taste great. But only order it if you can become comfortable with the notion of raw prawns. 
Som Tam Pla Ra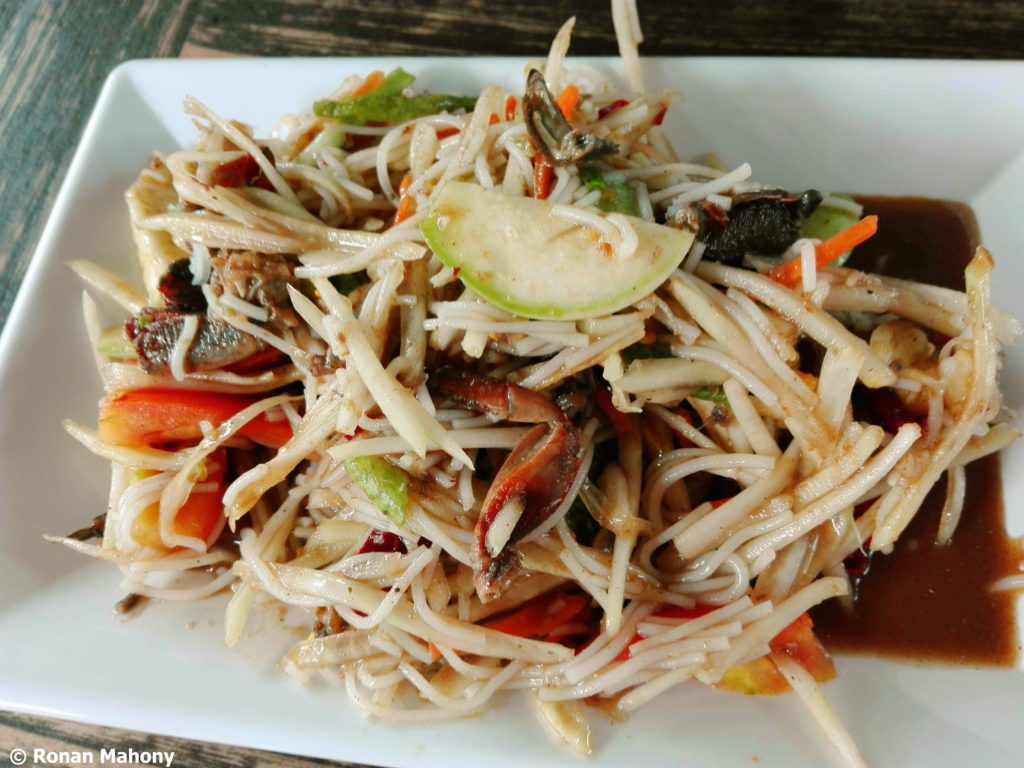 Som tam, or papaya salad, is regarded as one of the world's great dishes. In fact, it made it onto the most recent CNN list of "50 best dishes in the world."
When many people come to Thailand and eat som tam, they are actually eating a particular version of som tam, known as som tam Thai. I like som tam Thai, but it's a bit too sweet for me. 
By far a more strange, yet delicious version of som tam is the version eaten throughout Isaan, and northern Thailand, known as som tam pla ra. What makes this dish count as one of the weird Thai food dishes is the inclusion of pla ra, which is essentially rotten fish sludge. There is no sexier way of describing it. 
Pla ra is fish that has fermented for six months with salt and toasted rice, which gives it an incredibly strong and sometimes unpleasant smell. It's the type of smell that would make you wonder, "who the heck actually allows this stuff to enter their body?"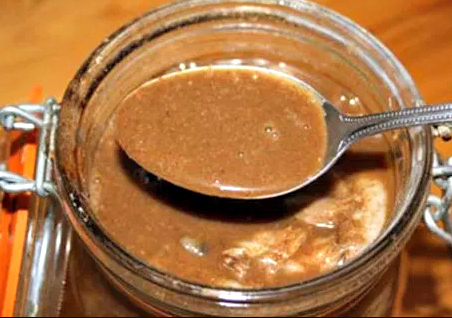 But as the genius cooks of Thailand figured out, something magical happens when you add pla ra to the traditional som tam recipe. You get an added element of saltiness and extreme sourness that tastes absolutely astonishing. You lose that sickly sweetness that a som tam Thai often tastes of. The intense sourness comes from the lactic acid that builds up when you ferment fish for a long time. 
To me, som tam pla ra is like a drug: I just cannot get enough of it. My stomach often hates me for going overboard with it, but this salad is one of the tastiest I've ever eaten. 
If a Thai person spots you eating Tam Pla Ra, you'll know about it from the surprise on their face and in their voice, even though you might not quite understand what they're saying. 
Try to get over the odd smell and I promise you that you will order this dish again and again. It's that good. 
Yam Kai Yeow Maa (Preserved Egg Salad)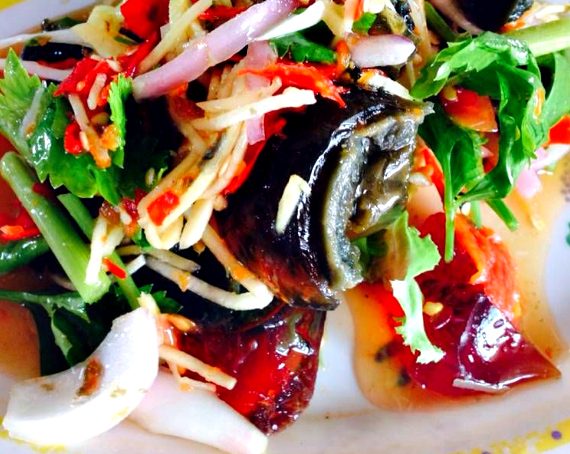 The Thais prepare this funky salad using century eggs, which are blackened eggs that are preserved for months at a time. Over the course of the preservation process, the eggs darken, with the yolk taking on a creamy consistency and the whites becoming translucent brown.
The eggs also take on a rather odd aroma, which influences the name that Thais use for such eggs, Yeow Maa meaning horse pee. 
Now, you might wonder why the heck you'd ever want something that smells like horse pee, but hear me out. The smell isn't actually that strong, and it becomes completely non-apparent when paired with a salad including lots of coriander, lime juice, and fish sauce.
The creaminess of the century eggs in Yam Kai Yeow Maa constrasts exquisitely with the zesty dressing, heat from freshly chopped Thai chilis, and chunks of shallot. 
Laab Mote Daeng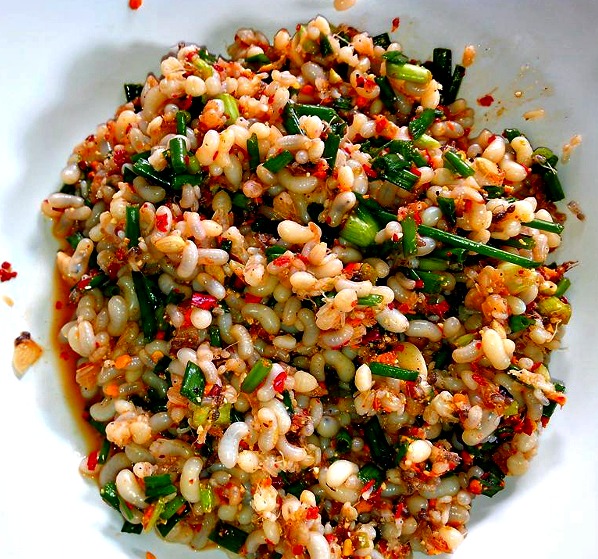 Laab Mote Daeng is one of those weird Thai food dishes that makes people cringe when they hear what goes into making it. Essentially, Laab Mote Daeng gets its name from the fact that eggs from red ants are used to prepare the dish.
Laab is a famous Lao/Thai salad that should be sour, spicy,  and refreshing from mint, with the texture of khao khua, toasted rice powder, adding bite to it. 
Traditionally, laab gets its sour taste from generous dashings of lime juice. In laab mote daeng, red ants and their eggs replace the minced meat typically served with laab. This exotic delicacy honestly should be tried by everyone at least once because it tastes so unexpectedly great.
The ants and their eggs taste exactly like lime juice, and they burst with this sour flavor with each mouthful. It you can put behind your preconceptions about the prospect of eating ant eggs, I promise you this dish is rewarding. 
To me, Laab Mote Daeng is the perfect showcase of the innovative genius of Thai cooks. I mean, I'd love to know who sat down one day and went, "You know what, I bet these ant eggs taste good.", thereafter proceeding to base an entire salad out of such a strange exotic ingredient. 
Tom Saap Teaw Gai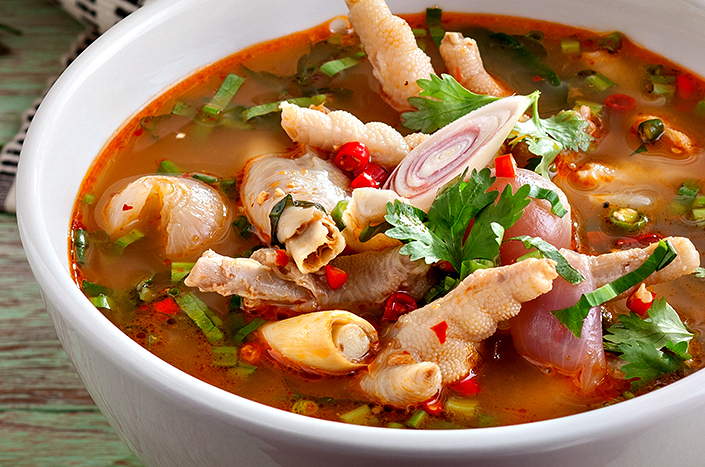 Often discarded by Western chefs as an undesirable and frankly inedible part of the much-loved chicken, Thais take the opposite approach to chicken feet. Instead of wasting them and assuming nobody wants to munch on chicken feet, the Thais turn these bad boys into an incredibly fragrant and spicy soup, named Tom Saap. The "Taew Gai" translates as chicken feet. 
This soup is nearly always tongue-twistingly sour from heaps of fresh lime juice. It's wonderfully fragrant from lemongrass and galangal, and fiercely hot from the little Thai chilis chopped up and hidden inside, ready to turn your mouth into a searing ball of heat at any minute.
The chicken feet themselves add a wonderful chickeni-ness (yep, that's a word in my vocabulary) to the dish. Chicken feet have very little meat on them but the meat they do have tastes quite good, once you can convince yourself that it's not disgusting to suck the meat from a chicken's foot. 
Yam Naem – Naem Khluk (Fermented Pork Salad)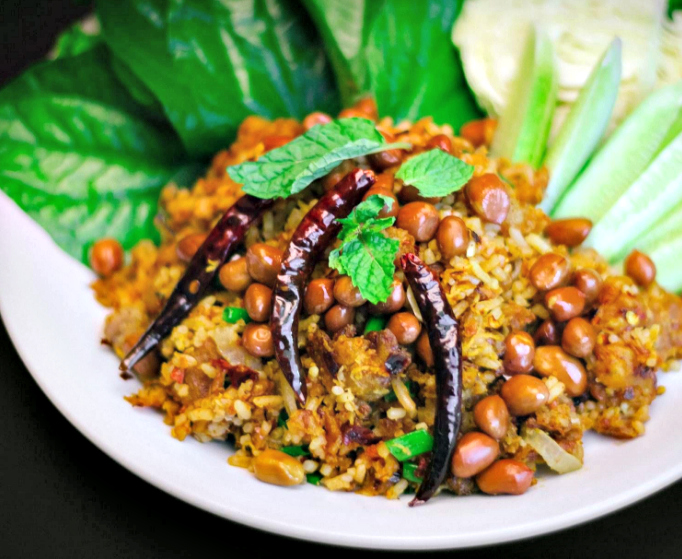 Arguably not as strange as the dishes preceding it on this list, Yam Naem is still one of several weird Thai food dishes that actually tastes great. What makes this ingredient weird to the Western palate is that it contains fermented uncooked pork.
Naem has a deliciously comforting flavor with a slight hint of sourness to it. Yam Naem, the salad, is one of the best things I've ever eaten. It's filling, rich, and addictive. It's also really hard to find someone who makes this dish well. But when you find that person, you're in for a treat.
In Yam Naem, the chef combines the fermented pork with deep fried balls of rice, toasted peanuts, shallots, chili flakes, lime juice, and fish sauce. This dish hails from the Isaan region of Thailand, where arguably the country's best food originates. 
I implore anyone visiting Thailand to seek out someone selling Yam Naem and try this dish. The warning I feel obliged to give you is that you'll probably never want to go home after eating it.
So, that rounds up this blog post highlighting some weird Thai dishes that taste great. If you travel to Thailand, challenge yourself to try some of these and let me know what you think in the comments below. 
Enjoy this post? Please consider subscribing to my email list via the form below, and I'll send you updates in addition to free exclusive Thai food recipes that won't be published on my website. Thank you!
Summary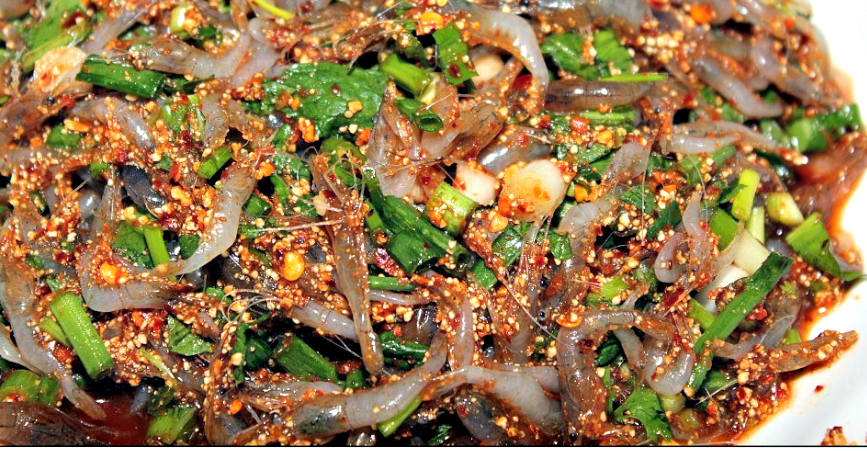 Article Name
Weird Thai Food Dishes That Taste Delicious
Description
A blog post highlighting some weird and wonderful Thai food dishes that one can sample when they delve further into Thai cuisine.
Author
Please like, share, and follow