Funky Dog Cafe is a great little restaurant located about halfway down one of Chiang Mai's busiest sois (small alleys). An extremely friendly Thai hippie and his wife run the restaurant, and it gets its name from the cute little dog who shuffles about the place while diners devour the delicious meals, which all feature organic ingredients. 
The menu includes a range of staple Thai dishes that most foreigners know about. Pad Thai, Green Curry, Tom Kha Gai, and Tom Yum all feature in addition to a range of Western dishes such as muesli and oatmeal. Normally, I wouldn't be that keen on Thai restaurants that serve Western fare, but Funky Dog Cafe is a worthwhile exception. 
To find Funky Dog Cafe, head to lane six on Moon Muang Road in the city. Walk about 300 meters down the soi and you'll find the restaurant on your left. The front of it looks like this: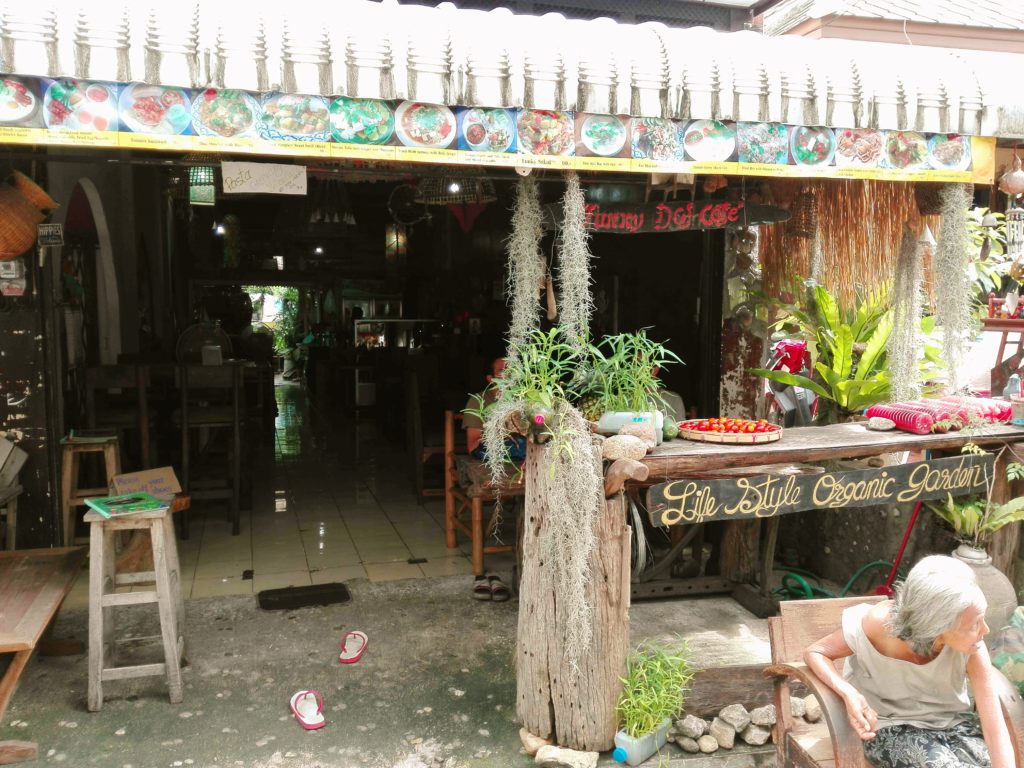 This is a really relaxed little restaurant, so fret not if there is nobody waiting to greet you at the door. The owner is often out the back prepping some kind of meal, and he or his wife will eventually arrive to bring you a menu, which features the cute little dog on the front that I referred to earlier.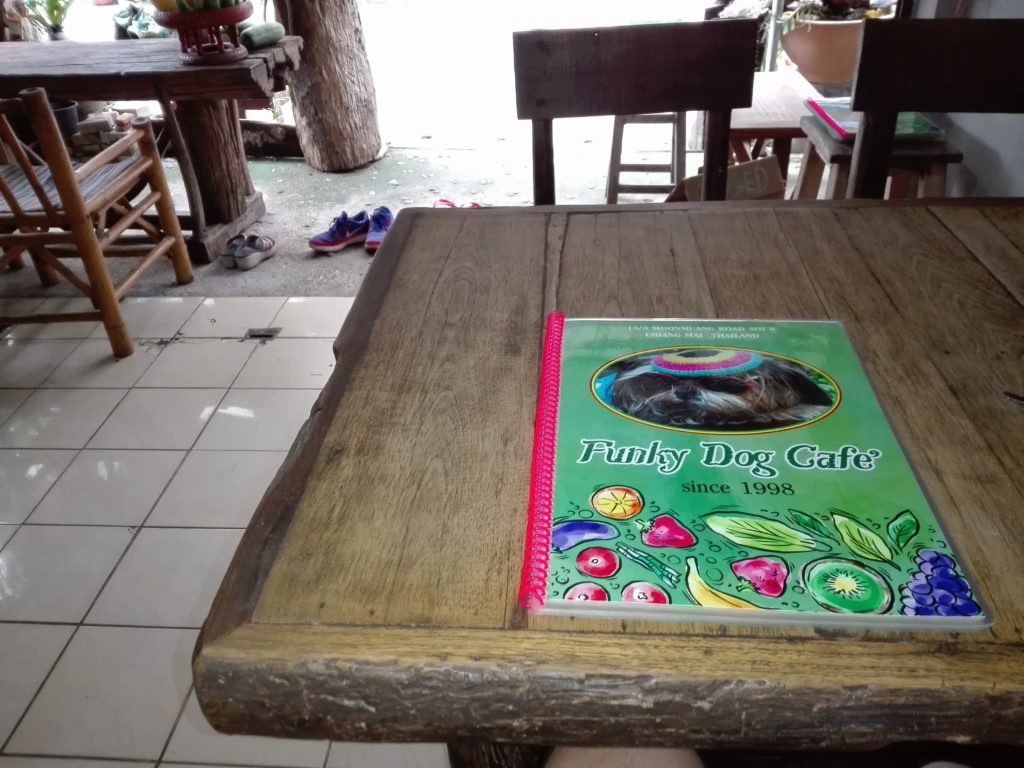 The contents of the menu are pretty basic. You'll see all the standard Thai dishes and a few Western ones. Having eaten here on a number of occasions, I recommend you opt for their amazing Panang Curry with chicken. 
Panang Curry (พะแนงหมู)
So on my latest jaunt to Funky Dog Cafe, I ordered the Panang Curry. I was met by the owner and his eternally smiling Thai wife, who remembered me from the last time I was in Chiang Mai. I recommend you order your curry spicy. The shakes here also taste amazing so it's worthwhile ordering one to accompany the delicious curry you're about to eat. I opted for a passionfruit and coconut shake, which tasted incredible. 
Everything is cooked to order here, so take a seat, get your favorite book out, and await the arrival of one of the best Panang Curries you'll ever eat in your life.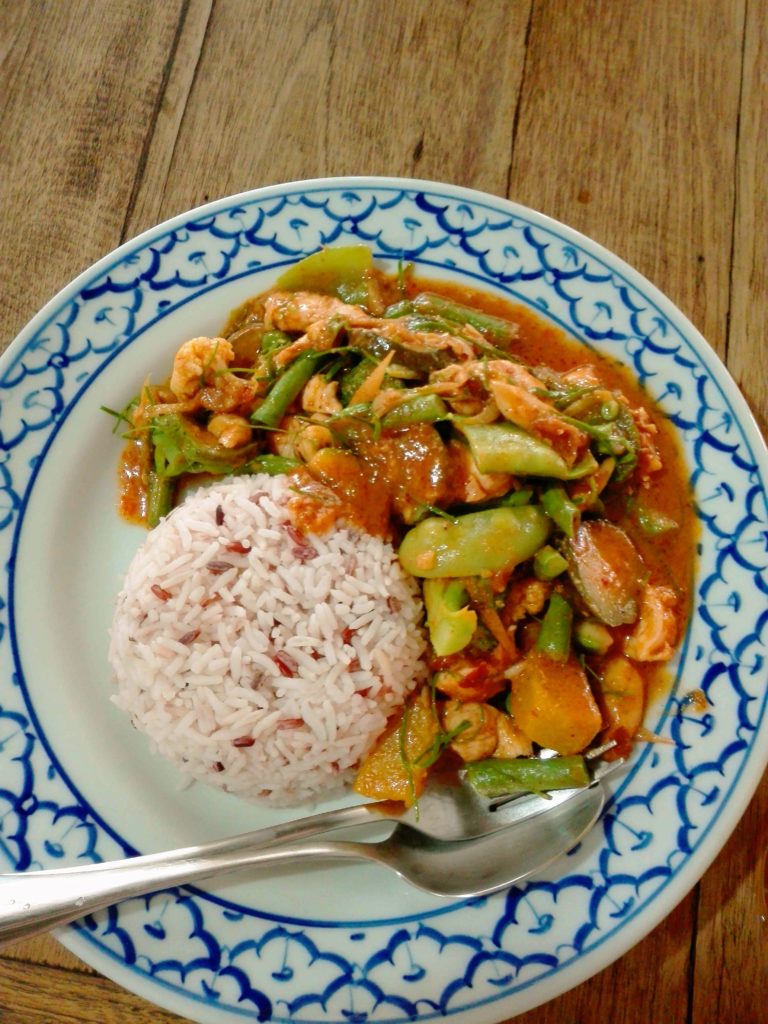 What struck me first about this incredible plate of food was the amazing aroma coming from the dish as soon as it was set down on my table. If you look at the above image carefully, you can see shards of fresh lime leaf sprinkled generously around the plate: that's where the amazing smell came from. 
I was also impressed by the variety of vegetables included with my curry; I spotted cauliflower, fresh garden peas, green beans, broad beans, and pumpkin, among others, alongside my strips of chicken breast. 
The first spoonful was absolutely heavenly. The thick gravy was at once salty, sweet, sour, and spicy. Actually, Panang is known as being the sweetest of the traditional Thai curries, but I'm a bit of a chili fiend so I can't really live without it in my Thai food.
The freshness of the vegetables was amazing, and I was impressed with how I could still taste each individual vegetable with every mouthful, despite the power of that zesty, thick, and spicy curry sauce. I devoured the whole thing in five minutes flat, it was that good!
Expect to hear plenty of reggae music at Funky Dog Cafe, and make sure you have a chat with the friendly owner, who is a really fascinating guy to talk to. But most of all, if you are in Chiang Mai, definitely go out of your way to eat here at least once during your stay!
Anyone struggling to find Funky Dog Cafe can check out this Google Map. 
Enjoying the site? Want to get free exclusive Thai food recipes that I only send to my email list? Please consider subscribing. All it takes is your name and email address and you can opt out at any time. I've placed the simple signup form below for your convenience. Thank you for your support!
Please like, share, and follow