One of the best parts about running a food blog is recommending some amazing places to eat to people who might already be in Thailand or considering a visit. Isaan food has always made me a bit giddy, and it was actually my first taste of som tam pla ra that inspired my love of Thai cuisine, which has since seen me returning to the country over 15 times. 
To the uninitiated, Isaan food is the food of northeastern Thailand. This region, which my girlfriend hails from, is the poorest part of Thailand. What's so admirable about Isaan people in culinary terms is how they make use of their limited funds to cook some absolutely sensational, fiery, funky food that to me, is like a drug. 
Authentic Isaan food can be difficult to find outside of the Isaan province, but a new restaurant named Baitung Rungchan in Chiang Mai does a sensational job of it. I've been here twice and the quality of the food was simply mind-blowing on both occasions. 
On my first visit to this place, I ordered tom saap moo, which is a deliciously sour and spicy soup, and tam pa, otherwise known as jungle salad, which is a funky Thai salad that originated in Laos/Isaan. After about ten minutes of waiting, the friendly owner presented us with our plates. I knew immediately the food was going to be incredible: you could just tell.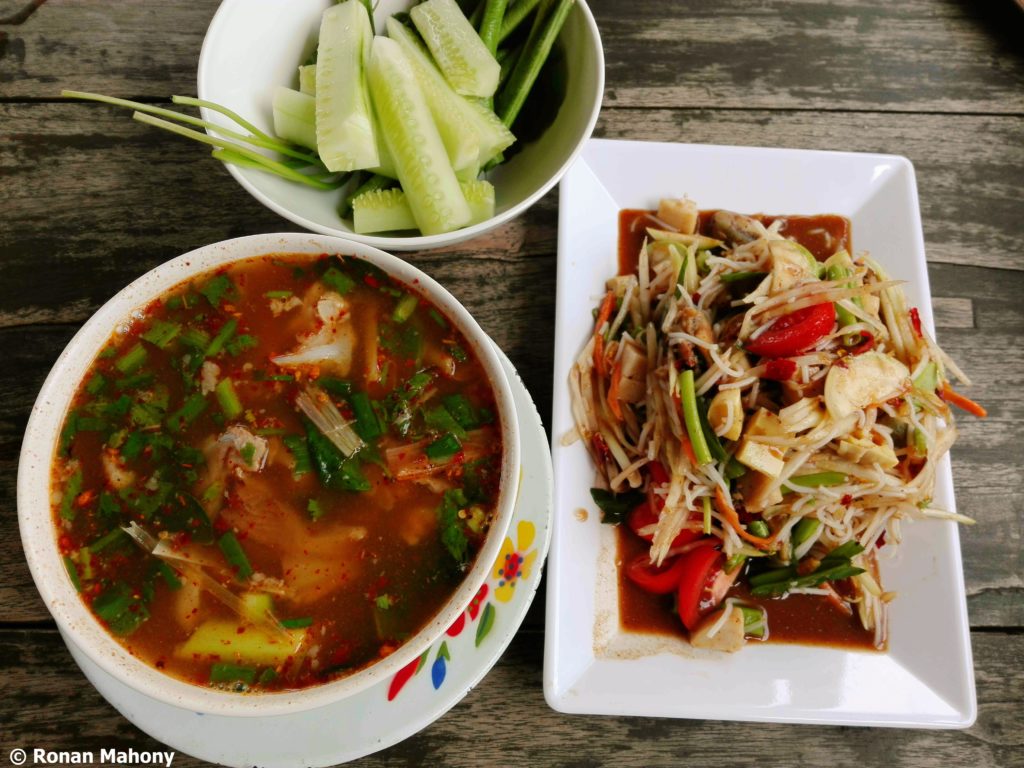 The soup was what I can only describe as heavenly: pungent from the heaps of lemongrass, coriander, and galangal, and lip-smackingly sour from the lime leaf. Roasted red chili flakes gave it an addictive spiciness that made my lips all red like I'd just had a sloppy drunk kiss but I didn't care how I looked when eating food of such quality. Next up came the Tam Pa, or jungle salad, which was funky, salty, sour, and insanely hot. Seasoned with pla ra, it had an incredibly umami flavor that is difficult to describe adequately. Essentially, it tasted like everything I love about Isaan food. Here's a close up shot: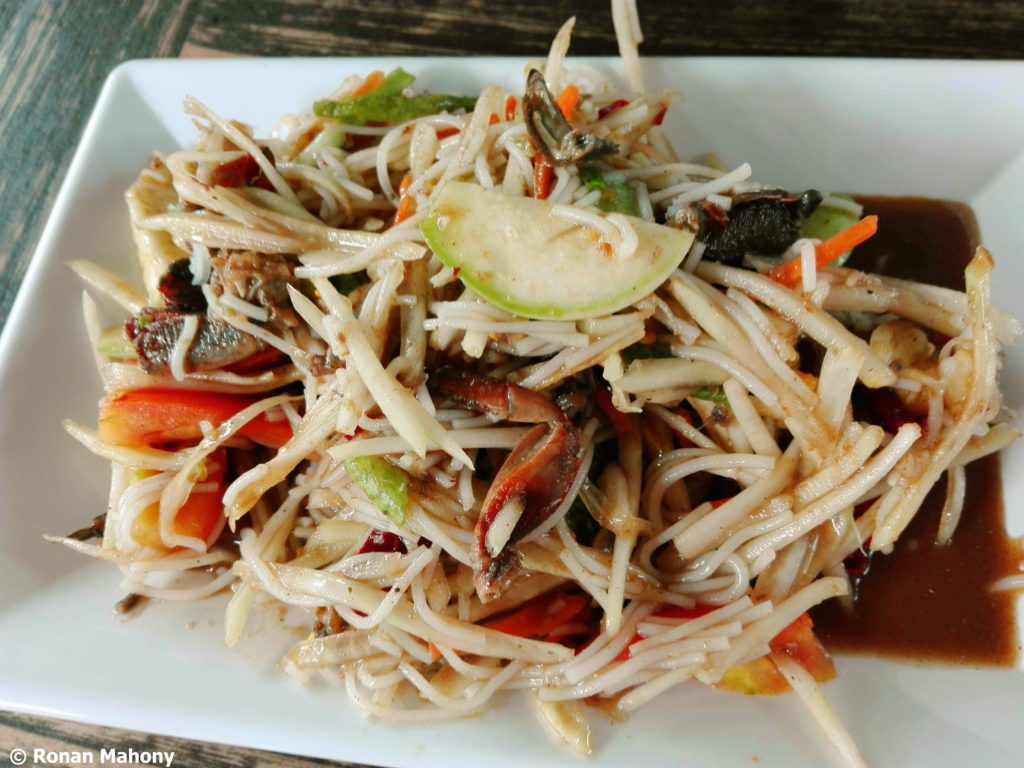 In this close-up of Tam Pa, you can see an eclectic mix of ingredients, from crab claws to fermented noodles (kanom), tomatoes, baby aubergines, and carrot. The point of Tam Pa is that it's like a mixed bag of everything that somehow comes together as one cohesive, addictive plate of food. And that brown delicious dressing you see is perfect for dipping some sticky rice into. 
Part of the appeal of Thai cuisine in particular is the sheer depth and array of ingredients the Thais use that I'd never previously heard of. So, on my second visit to Baitung Rungchan, I decided to opt for a salad named Tam Kratawn, which contains a fruit called a santol, an odd looking Thai fruit that goes perfectly complements an Isaan salad because of its salty sourness.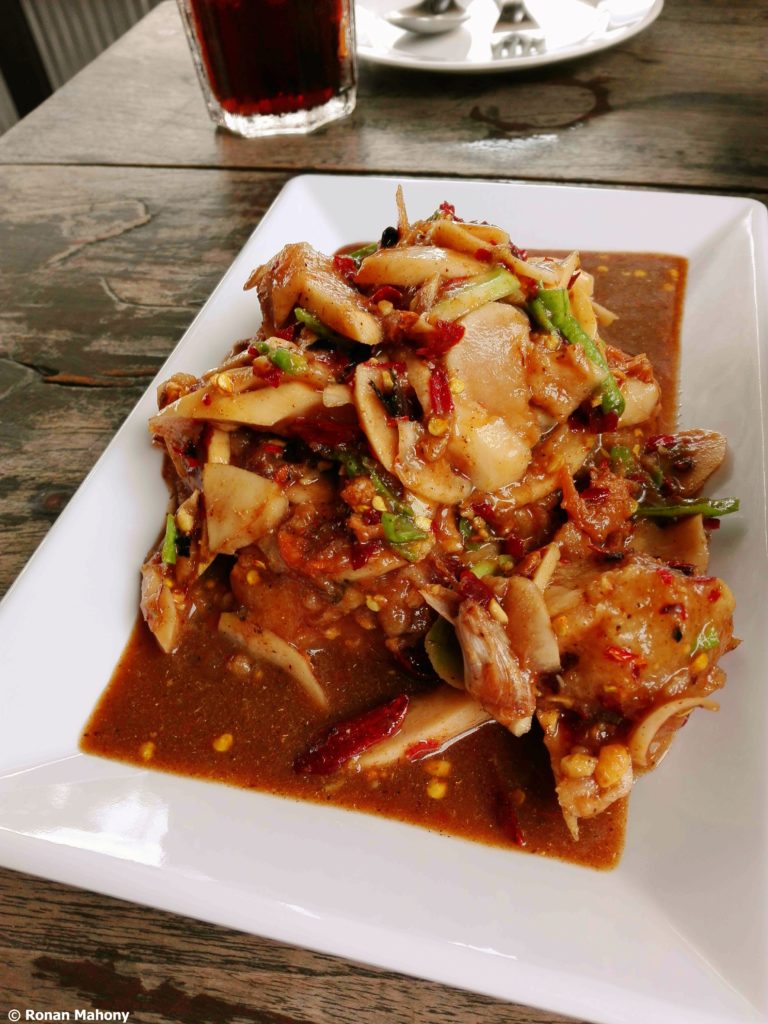 The chunky slivers you can see throughout the salad is the chopped santol fruit. This salad tasted incredibly complex, with an almost satay-esque dressing, delicious warming heat from the chilis, and an umami, funky, pickled saltiness that needs to be tasted to be understood. 
The menu at Baitung Rungchan is actually in English, but the restaurant itself is outside of the main area of Chiang Mai and can be difficult to find. You'll find it on the Chiang Mai Outer Ring Road, and the front of the restaurant looks like this when viewed from the road: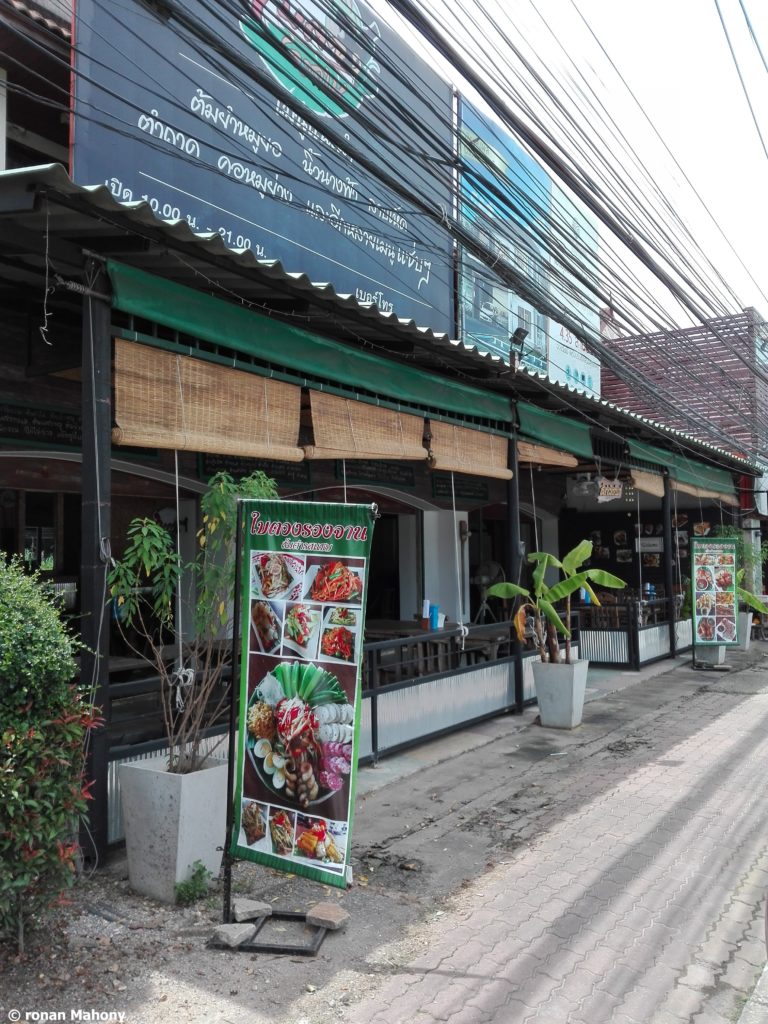 The interior is spacious, modern, and clean with traditional Thai wooden tables and chairs making for a relaxed, comfortable place to eat some delicious Isaan food.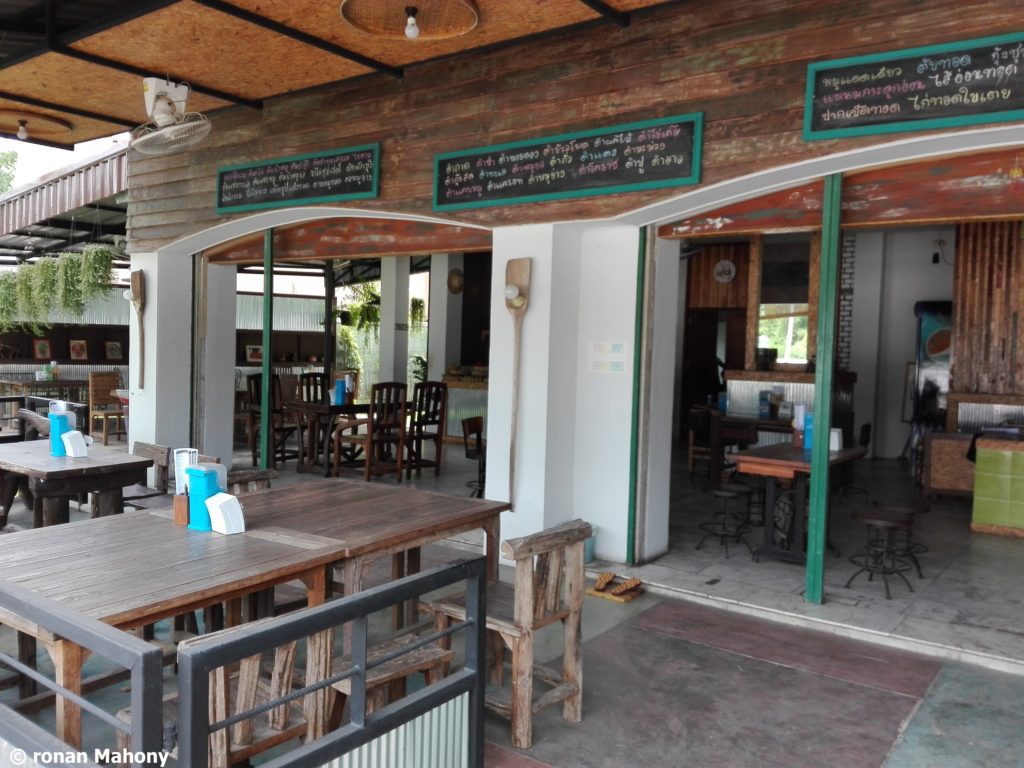 If you are in Chiang Mai or you plan to go there in the near future, I cannot recommend this place more highly. Expect fiery, sour, salty food that simply blows your mind. This is the real taste of Thailand and I consider myself blessed to have been able to eat here on more than one occasion. 
I have included a Google Map link here so you can find Baitung Rungchan. We paid about 300 THB for a smorgasbord of the best food Isaan has to offer.
Google map link: https://goo.gl/maps/uqHxxsTVA5Q2
Go here, eat the food, enjoy yourself, and let me know what you think in the comments.
Than hai im, na khrap! (Eat until your belly is full!)
Enjoying this site? Please consider subscribing to my email list via the form below, and I'll send you free exclusive Thai food recipes that won't be published on my website. Thank you!
Please like, share, and follow