Pad Pak Boong Fai Daeng, or stir-fried morning glory, is one of the tastiest dishes you can eat in Thailand. It's also sadly missing from the majority of western Thai restaurant and takeaway menus. Those that do offer stir-fried morning glory Thai style tend to serve inauthentic, toned-down versions of this vibrant dish. It's a shame really because stir-fried morning glory is a terrifically easy dish to cook. 
The hardest part of cooking Pad Pak Boong Fai Daeng at home is finding a store that sells morning glory. Also known as water spinach, this delicious vegetable is much-loved in Thai cuisine for its tender shoots and leaves that take on Thai flavors beautifully.
Morning glory is the ideal stir-fry vegetable.  The following recipe for stir-fried morning glory takes less than two minutes to cook from the time the ingredients first hit the wok. It really is that easy. 
Stir-fried morning glory Thai style
Recipe: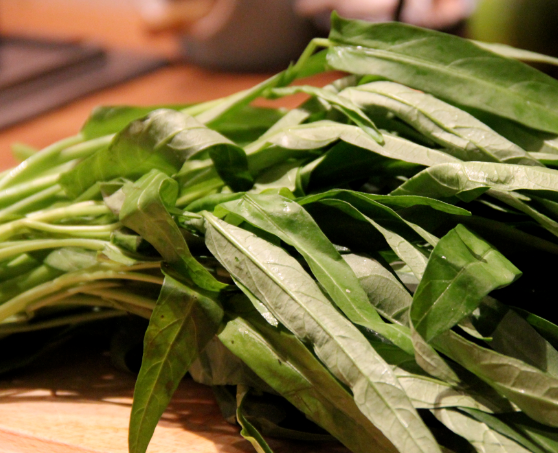 1 bunch of morning glory.

A minimum of 4 cloves of garlic.

Three or more Thai chilis.

2 tablespoons oyster sauce.

1 tablespoon

fish sauce

.

1 tablespoon fermented soybean paste

 

(important ingredient for authenticity but not the easiest to find. The recipe still tastes really good without it.)

. 

1 teaspoon sugar.

1 tablespoon vegetable oil.

Quarter cup of pork or vegetable stock (mix one stock cube with water). 

Steamed jasmine rice to serve.
Method: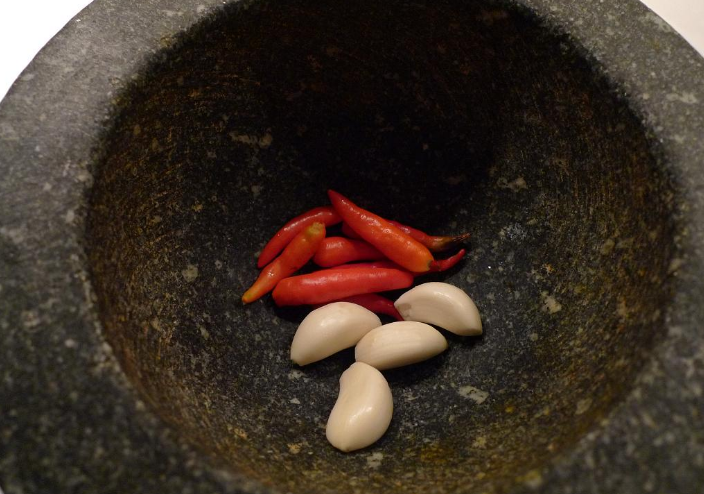 Cut the morning glory or water spinach into 4-6 inch lengths after rinsing it briefly under cold water. 

Bash the chilis and garlic together in a pestle and mortar until they are crushed but remain relatively whole. It's important to use a good pestle and mortar – I recommend a good granite one, like the one sold by

The Smart Nut Company

.  

Heat the oil in a wok until it's hot as hell. 

Add the garlic and chilis, stir-fry for about 15-20 seconds. 

Next, add the morning glory along with the fish sauce, oyster sauce, soybean paste, and sugar. Stir-fry for another 40 seconds. 

Add your quarter cup of stock and allow to heat for another ten seconds. Take off the heat and serve with steamed jasmine rice. 
Done!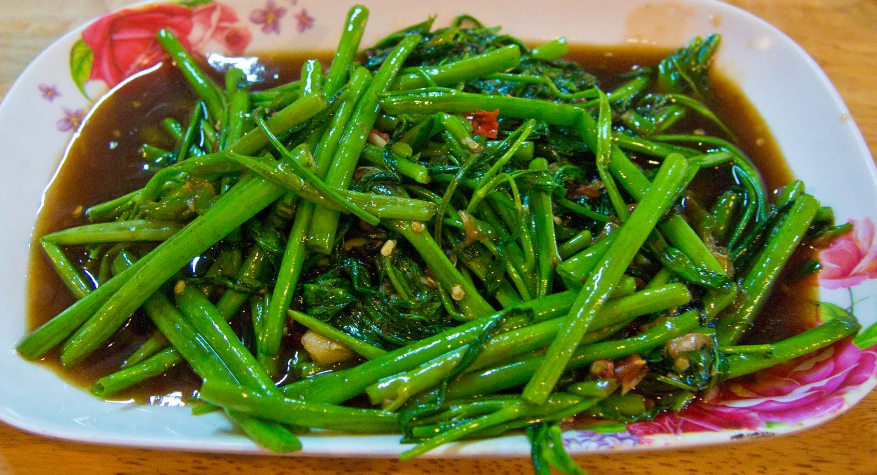 Isn't it amazing how quick and easy that is to cook? Makes you wonder why it's so tough to find a decent Thai takeaway or restaurant in any Western country that serves stir-fried morning glory Thai style! 
Quick pointers: 
The reason you use so much garlic is because the dish depends on a strong garlicky flavor. Leaving the garlic and chilis whole helps to impart their taste on the dish without you needing to eat big chunks of garlic and chili (although you are free to eat them if you want to!)

If the idea of stock annoys you, replace it with three to four tablespoons of water. Thais will nearly always use stock, though (typically in the form of a powder). 
Get cooking and let me know what you think of this stir-fried morning glory recipe in the comments below!
Shop This Recipe for Cookware and Ingredients Used
Please note that links to Amazon products on this site are affiliate links, meaning I get a (teeny-bit) of the percentage of any sale. This helps to support my site and ensure I can post more great thai food recipes. All ingredients and cookware are products that I use daily in my kitchen. Thank you for your support.
If you like this recipe, don't forget to share it on social media. Thank you. 🙂
Summary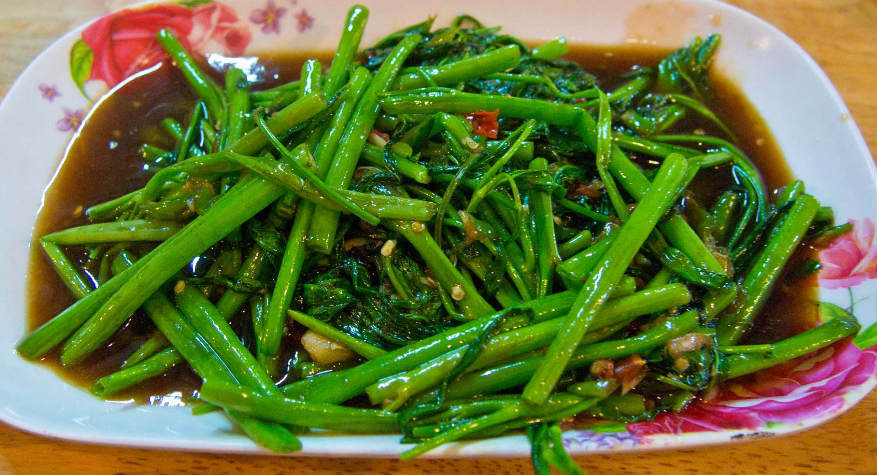 Recipe Name
Thai Stir-Fried Morning Glory
Author Name
Published On
Preparation Time
Cook Time
Total Time
Average Rating





Based on 2 Review(s)
Please like, share, and follow